UFC 207 was not just the end of Ronda Rousey as we know her. It was the end of the women's bantamweight division as we know it.
Since its very inception, the division has been defined by Rousey. She was the reason it came to exist and she was held up as the ideal of what a female UFC fighter was supposed to be. She is an Olympic-level athlete, a natural talker and a photogenic beauty. The combination convinced UFC president Dana White to make Rousey the first woman to sign with UFC and she is, thus far, the greatest female fighter in UFC history.
Now that Rousey has lost twice, both times in brutal fashion, the division and sport she helped define are in complete flux. Rousey's fall from grace and her uncertain future are not the only destabilizing forces in the 135 division, however.
The woman who ruined Rousey's 12-0 undefeated record and took the title, Holly Holm, lost her first title defense via a miraculous rear-naked choke from Miesha Tate. Holm tried to rebound from the loss against Valentina Shevchenko and got ground to dust in a five-round unanimous-decision loss. The former boxing superstar is now moving to the newly created 145-pound featherweight division, and will in all likelihood stay there for the foreseeable future.
Tate's career cratered even worse that Holm's. After gaining the title that she had worked her whole life to earn, Tate got knocked out by Amanda Nunes at UFC 200. Then she got bulldozed by Raquel Pennington, Tate's former protege from her time coaching against Rousey on "The Ultimate Fighter." After the Pennington fight at UFC 205 in Madison Square Garden, Tate stunned the crowd by announcing her retirement.
The Rousey-Tate-Holm trio that held up the bantamweight division since 2013, in their past two fights each, is a combined 0-6. In the short run, the sport is worse off for it.
In an alternate reality, the three women could have formed a rivalry like the one among Chuck Liddell, Tito Ortiz and Randy Couture in the early 2000s. Those three men brought the UFC out of its dark ages and into the mainstream, but it is impossible to know what the triumvirate of women would have done had they held it together. Now they're out of the picture, and the bantamweight division is a bit of a wasteland.
Nunes is the undisputed queen. She knocked out Tate and Rousey, and had beat Shevchenko, the No. 1 contender, in impressive fashion during her run-up to the title. Shevchenko is slated to fight No. 2-rated Julianna Pena on Jan. 28, and the winner of that fight likely will get a title shot. But all three women are still relatively unknown to the mainstream public.
In the long run, however, the women's bantamweight division should emerge into a bright new era of evolutionary fighters. Uber-specialized fighters such as Rousey (an Olympic judoka), Tate (a lifelong wrestler) and Holm (one of the most decorated female boxers in history) will no longer be competing in a high-stakes version of rock-paper-scissors. Instead, Swiss-army-knife martial artists like Nunes, Shevchenko and strawweight champion Joanna Jedrzejczyk will become the dominant forces atop the sport.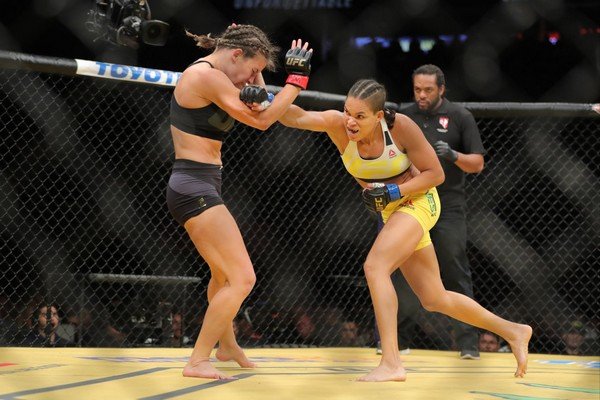 The evolution that women's MMA is undergoing happened to the middleweight and light heavyweight men's divisions a decade ago. At the time, Liddell and his looping right hand of doom was the face of the sport, just as Rousey, with her hip tosses and armbars, is now. Liddell battled against a string of narrowly defined fighters like Ortiz and Couture in contests that can easily be reduced to "boxer vs. wrestler," or "ground-and-pound vs. jiu-jitsu artist." Then Georges St. Pierre and Anderson Silva came along and changed the sport. Silva and St. Pierre are complete mixed martial artists who are just as comfortable on their feet as they are on the ground.
The women who have climbed atop the bantamweight division are either in the process of evolving or are already done with it. Nunes has thunderous hands, but is also a black belt in Brazilian jiu-jitsu. Shevchenko is a world-class Muay Thai fighter who dismantled Holm and pushed Nunes to the absolute limit in a three-round war at UFC 196 in March. And Cristiane "Cyborg" Justino is an overwhelming monster who is set to reign supreme over the 145-pound women's featherweight division, pending the adjudication of a recent PED violation.
Rousey is steadfastly standing by her coach, Edmond Tarverdyan, though there is a growing consensus within the MMA world that he has no idea what he's doing. She has options outside the Octagon, such as her upcoming starring role in the "Road House" remake. She's completely changed her public personality by shutting out the press after her loss to Holm. And she's hinted she might just give the whole thing up and retire.Within this new universe, it is hard to see a place for Rousey — and the end of Liddell's career does not provide much hope. Liddell imploded immediately after he beat Ortiz at UFC 66 in his greatest triumph. The event was the UFC's first to garner more than 1 million pay-per-view buys, but Liddell lost in Rousey-Holm-like fashion just 1:54 into his next fight against Quinton "Rampage" Jackson. Liddell was never the same again. Though it is impossible to know whether Rousey's career — if she opts to continue it — will take the same turn, the signs don't look good.