Ronda Rousey is a retired American mixed martial artist and currently professional wrestler. She is considered one of the greatest female MMA fighters of all time, having won multiple championships in the Ultimate Fighting Championship (UFC) and becoming the first female fighter to sign with the organization. Rousey has also dabbled in other fields such as acting, writing and broadcasting.
Inside Ronda Rousey Lifestyle: House, property, cars, and Net Worth
As for her lifestyle, Rousey is known for her disciplined and dedicated approach to training. She has always been committed to staying in top physical condition, both in her MMA and wrestling career. In her personal life, Rousey is married to a fellow MMA fighter and they have a daughter together.
Rousey is also an animal lover and an advocate for various causes, including animal welfare and veterans' rights. Overall, she leads a balanced life, focusing on her family, her career, and giving back to her community.
See also; 10 Interesting Facts About Ronda Rousey
Ronda Rousey's net worth
Ronda Rousey, the American mixed martial artist and professional wrestler, has made a substantial fortune throughout her successful career. Her net worth is estimated to be around $13 million, making her one of the richest female athletes in the world.
The majority of her wealth comes from her career earnings as a professional wrestler and mixed martial artist. Rousey was a highly paid fighter during her time in the UFC and went on to become one of the highest-paid female wrestlers in WWE history.
In addition to her athletic career, Rousey has also made a significant amount of money through endorsements. She has endorsed various brands, including Reebok, Carl's Jr, and Buffalo David Bitton. Her tough and no-nonsense image has made her a popular choice for advertisers, further boosting her net worth.
Ronda Rousey has also made her mark in the entertainment industry. She has appeared in several movies and TV shows, including "The Expendables 3," "Entourage," and "Blindspot." These appearances have helped to increase her wealth and solidify her status as a well-rounded entertainer.
See also; Ronda Rousey Net Worth: What Is Ronda Rousey Doing Today?
Ronda Rousey's house and ranch
Ronda Rousey and her husband, Travis Browne, live on a sprawling ranch in Riverside, California, known as the Browsey Acres. This sprawling property is a reflection of the couple's love for nature and the great outdoors.
The ranch is a vast space that includes several acres of land, multiple barns, and stables for the couple's animals. Rousey and Browne have a strong passion for animal welfare and have used the ranch to provide a sanctuary for animals in need. They have a variety of animals, including horses, chickens, pigs, and dogs.
In addition to being an animal sanctuary, the ranch is also a place for the couple to enjoy outdoor activities and live a simple, quiet life away from the hustle and bustle of the city. The property features several areas for entertainment, including a pool, a fire pit, and a vegetable garden.
The Browsey Acres ranch is a reflection of Ronda Rousey and Travis Browne's love for each other, their love for animals, and their commitment to living a simple, sustainable life. With its sprawling grounds, tranquil surroundings, and peaceful atmosphere, it is the perfect place for the couple to call home.
See also; Hottest Female Athletes in the World (TOP 10).
Ronda Rousey cars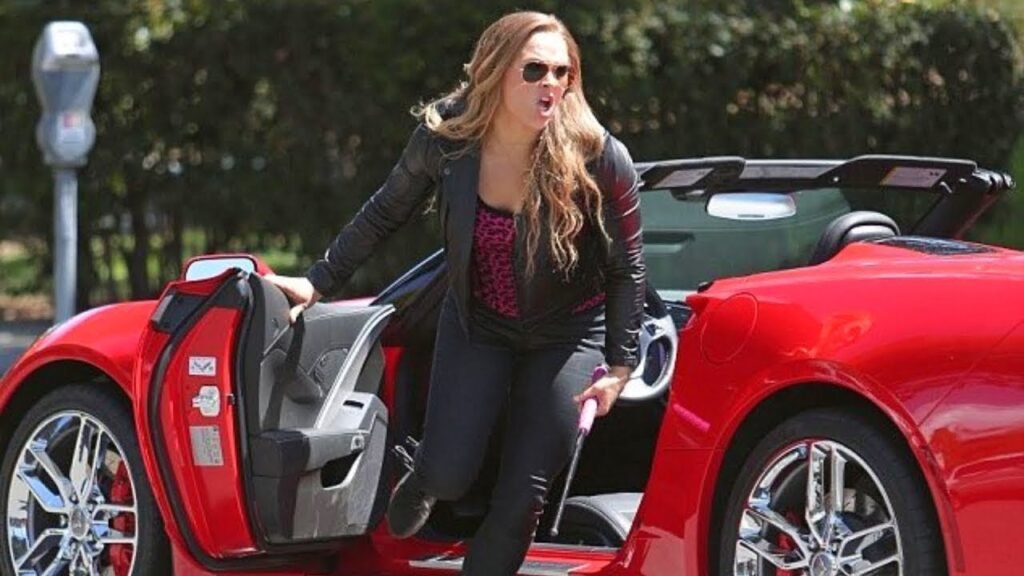 Ronda Rousey, with her impressive net worth, is known for her love for cars. She boasts of a remarkable car collection that includes a Chevrolet Corvette, BMW X6, Chevrolet Suburban, and Cadillac Escalade. These cars reflect her love for luxury and performance and are a testament to her success.
Her husband Travis Browne, who is also an MMA fighter, has an impressive car collection of his own, which includes a Mercedes-Benz SL500, 2003 BMW 745li, Ford F-350, Jaguar C-X75, 1977 Pontiac Trans Am, Lamborghini Murcielago, Jaguar F-Type, Porsche Cayenne, Hummer H2, and others. This collection showcases his passion for high-performance cars and the fruits of his success.
Ronda Rousey and her husband are known to enjoy driving their cars and exploring the scenic roads of Riverside, California. Their love for cars and the great outdoors is evident in their lifestyle and their choice of vehicles.
Ronda Rousey and Travis Browne's car collection is a reflection of their hard work, success, and passion for luxury and performance. These cars are a symbol of their success and their commitment to living life to the fullest.
Did Ronda Rousey live in her car?
Ronda Rousey had a tough start in life, but she never let her circumstances hold her back. After winning a bronze medal at the 2008 Beijing Olympic Games, she found herself struggling to make ends meet and was forced to live out of her car for a time. Despite these difficulties, she never lost sight of her goals and continued to work hard towards her dream of becoming a professional wrestler.
Today, Ronda Rousey is one of the most celebrated female wrestlers in the world, and her net worth is estimated to be $13 million. Her success story is a source of inspiration to many, especially to young women from humble backgrounds who are pursuing their dreams.
Ronda Rousey's journey from living in her car to becoming a successful wrestler is a testament to her determination, hard work, and unwavering commitment to her dreams. It is a story that serves as a reminder that with hard work and perseverance, anyone can overcome the odds and achieve their goals.
Conclusion
Ronda Rousey's net worth of $13 million is a testament to her hard work, dedication, and versatility. She has made a name for herself in multiple fields, including athletics, entertainment, and modeling, and has become one of the most recognizable female athletes in the world. Her personal website is rondarousey.com, and Instagram.